Permanently deleted user
The following figures show both sides of the Ground Unit.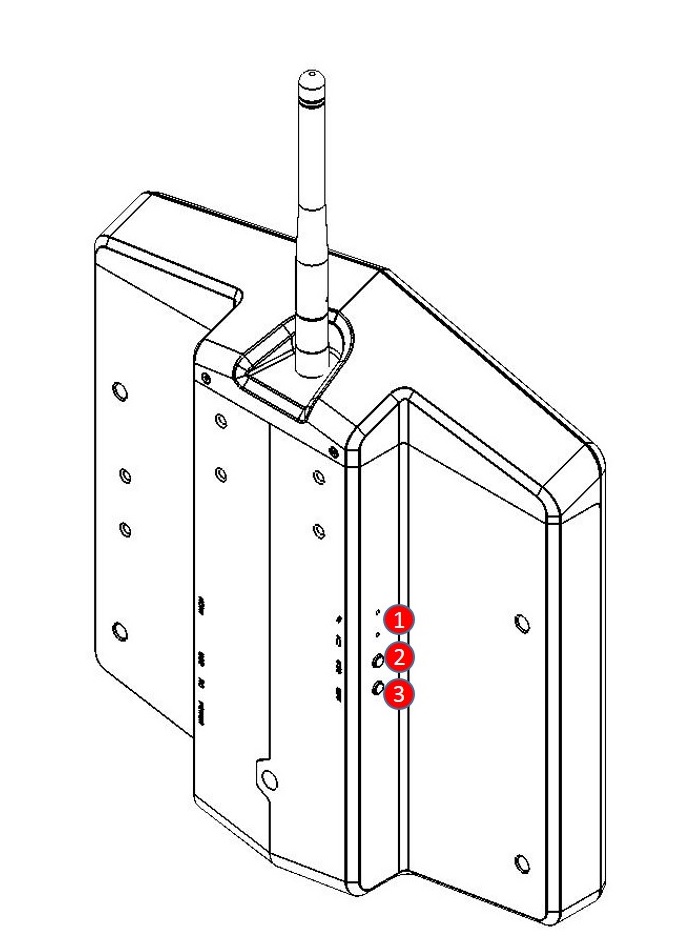 CONNEX LR– 1
CONNEX LR– 2
Key

Name

Description

1

LEDs

For a description of the Ground Unit LEDs, refer to Setting Up the CONNEX LR Ground Unit.

2

OSD Button

Enables/disables the OSD display. This display presents a screen of telemetry information collected by the CONNEX system on the monitor connected to the Ground Unit (e.g., Air Unit flight parameters, height, direction, signal strength, and so on). For more information, refer to Ground Unit – On Screen Display (OSD).

By default, OSD is enabled (displayed). Pressing this button disables and re-enables OSD.

3

Link Button

The CONNEX systems supports up to four Ground Units per Air Unit. The Link button enables you to connect up to three additional Ground Units to the same Air Unit. For details, refer to Multicasting to Multiple Ground Units.

4

Power Port

Input rating: 8-26 VDC.

5

Tripod Mount Hole

Enables you to connect the Ground Unit to a tripod. Connection to a tripod is optional.

6

S.BUS / PPM Trainer

This port can be connected to the Remote Control trainer port. This port enables you to remotely control the gimbal on the drone using the link between the Ground Unit and the Air Unit. The Ground Unit supports both S.BUS and PPM inputs.

The bit rate of this control can be configured in the S.BUS Rate field using the CONNEX Management application for Windows / MAC or for Android devices.

7

Micro USB Port

This port enables configuration and upgrade of the Ground Unit software using the CONNEX Management application for Windows / MAC or for Android devices.

8

HDMI Port

Enables display of the received video. Connect this port to a monitor's HDMI port using the provided standard HDMI cable.
Ground Unit Cables and Antennas
Cables and accessories for the Ground Unit are described in the table below.
Name

Description

Standard HDMI Cable

1.2 meters.

Power Connector

DC plug to XT-60 Male – 50cm length.

S.BUS Trainer Port Cable

3-pin to Futaba – 1 meter cable.

PPM Cable

PL 2.5mm male to PL3.5mm male.

Rx Antennas

2dbi screw-on antenna.

Micro USB Cable

Standard Micro USB cable for upgrading the CONNEX LR software.

The Micro USB connector connects to the USB port on the CONNEX LR.

The mini USB connector connects to a computer on which the Ground Unit software is installed.

USB to Micro USB Connector

Enables connection of the Air Unit to a tablet or mobile device.

Brackets and screw

Enables connecting the CONNEX LR to a pole, and fastening the HDMI cable.

for more in formation go to <LINK>