Permanently deleted user
The following sections provide a general overview of the application's main screens and features:
My Device Screen

Main Menu options

Basic Application Components
My Device Screen
When you launch the CONNEX Management application, the My Device screen opens:
This screen displays the following information:
Module: Specifies whether the connected unit is an Air Unit (Tx) or a Ground Unit (Rx).

SN: The unique serial number of the unit.

Product: The product ID of the unit.

Firmware Version: The version of the firmware currently installed on the unit. The application automatically checks with the AMIMON server whether the latest firmware version of the connected unit is installed.

If the latest version is installed, a Firmware Version is Up to Date message is displayed.
To exit the My Device screen and view the menu options, press the Navigation icon, at the upper left corner of the page:
Main Menu Options
The main menu screens are shown below (Air Unit on left and Ground Unit on right). Note that when a Ground Unit is connected to your mobile device, only the My Device and Support options are available.
The menu options are summarized in the following table:
Basic Application Components
This section explains general features that enable you to work with the mobile application quickly and effectively. The components are described in the table below the diagram.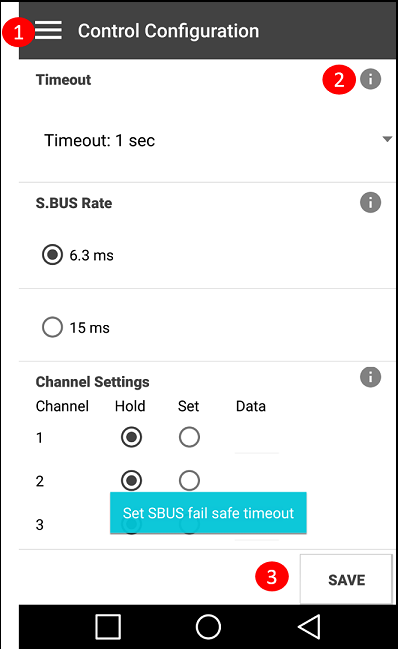 | | | |
| --- | --- | --- |
| Number | Feature Name | Description |
| 1 | Navigation button | Use this button to navigate back to the main menu. |
| 2 | Information icon | Press these icons to open popups that provide short explanations about the relevant feature. An example is shown in the figure above. |
| 3 | Save button | Press this button to save any changes that you have made on a page. If you navigate back to the main menu without pressing Save, your changes will not be saved. |